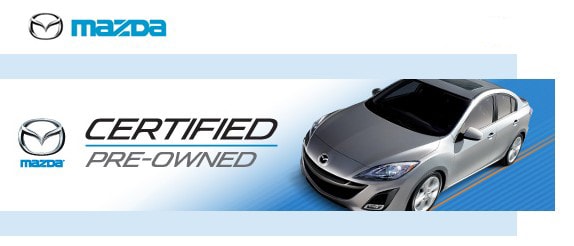 Some things just never get old - like our Mazda Certified Pre-Owned vehicles. The reason is because only well-maintained, late model vehicles make the cut. That?s why when you purchase one, you can be more than confident it?ll perform with all the hair-blowing, eye-catching, heart-pounding, fun-loving, soul-freeing Zoom-Zoom exhilaration you?d expect from Mazda.
Because we want your Certified Pre-Owned Mazda to feel like new, before you put it in your garage we put it through its paces. Each vehicle is required to endure an uncompromising 150-point inspection inside and out to ensure peak performance. It?s just one confidence-inspiring benefit of the Mazda Certified Pre-Owned Program. And, as you can see here, there are many more:
12-Month / 12,000 Mile Vehicle Limited Warranty* 7-Year / 100,000 Mile Powertrain Limited Warranty?
24hr Roadside Assistance
150-Point Detailed Inspection
Zero Deductible
Vehicle History Report
Extended Coverage Available
Transferable Benefits

*Coverage begins on the certified purchase date for 12-months / 12,000 miles, whichever comes first. ?Coverage begins from the original new retail sales date and covers 7-years / 100,000 miles, whichever comes first.